GLOBAL VOICES
Cross-cultural communication and the best indigenous voices from the five continents.
 Here, you can purchase DVDs. Note: We are in the process of converting all our videos to MP4 format, which will be available in the future!
 2 •  Rudolfo ANAYA: The Adventures of Juan Chicaspatas
 3 •  Amiri BARAKA and Jayne CORTÉZ
 4 •  Marisela NORTE and Anselm HOLLO
 5 •  Wanda COLEMAN and Paula GUNN ALLEN
 6 •  Jim NORTHRUP and Francisco X. ALARCÓN
 7 •  Patricia SMITH & Nila NORTHSUN
 8 •  Adrian CASTRO & Lynne PROCOPE
 9 •  John TRUDELL & Ishmael REED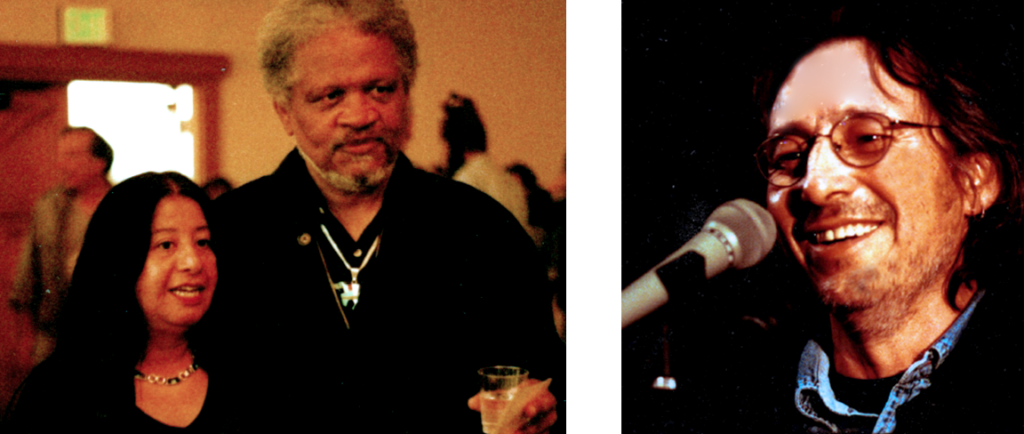 Lorna Dee Cervantes and Ishmael Reed, and John Trudell, 2000
10 •  Lorna Dee CERVANTES & Glennis REDMOND
11 •  John BALABAN & Juan Felipe HERRERA
12 •  POESÍA: Raúl RAMÍREZ, Enriqueta VÁSQUEZ, and the ANTONIA APODACA TRIO
Global Voices made its appearance in 1983 with Denise Chavez and sci-fi master Roger Zelazny.